Our partner is specialized in woven labels, paper labels, printing labels, leather labels, packaging, and other textile accessories. They produce luxury, unusual, and one-of-a-kind labels with the help of our expert staff and the highest quality raw materials. They create customized and authentic designs for your brand.
As an environmentally conscious company, they produce in accordance with international standards, and the raw materials they use have OEKO-TEX 100 STANDARDS certifications.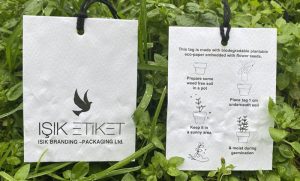 PLANTABLE HANG TAGS
Our plantable paper labels are a sustainable, 100% eco-friendly, ecological and zero-waste product for a green world. We can produce the desired size, color and shape according to your demands and needs by using recycled paper and adding your preferred seed. We can use many types of seeds such as grass seed, alfalfa seed and flower seed. You can easily plant our seed paper label in the soil without throwing it away. With our seed paper label you can contribute to a sustainable future by preventing environmental pollution.
APPLE SKIN LEATHER LABEL
Our apple skin leather labels are produced from leather fabrics obtained from the industrial processing of apple peels. These sustainable products contain a high level of natural waste. With our recyclable, ecological, environment and animal-friendly apple skin labels, not only the damages to the environment are prevented, but also energy emissions and consumption are significantly reduced. Apple skin leather labels can be used in many areas such as textile accessories, leather accessories, shoes, bags, furniture, clothing and packagings.
RECYCLED WOVEN LABEL
Recycled woven labels are one of our sustainable products. It is very important for the sustainability and livability of our world that the woven labels most used in our ready-to-wear products are recyclable, nature-friendly and ecological. They are produced from 100% recycled polyester yarns. It is the same as normal woven labels in terms of quality and visuality. We can produce the desired quality, color and size according to the demands of our customers.